English
Reading is a key component not only for the English curriculum but for all areas of learning at the school. Reading is taught systematically by using a range of strategies including :
giving children access to books in the class and for reading at home
direct phonic learning via Letters and Sounds and other materials
sight vocabulary (high frequency words)
one to one reading following book banded schemes and phonetically decodable schemes
guided reading
Developing a love of reading and the skills to read is at the core of all our learning at Hope Community School.
The school focuses on
developing reading skills through the teaching of phonics and other skills so children become confident and fluent readers
developing pupils' vocabulary, their skills in understanding a variety of texts ( stories, poems, rhymes, and non fiction texts)
develop a love of reading
100 Top non fiction books to read
Phonics
At Hope Community School, children learn phonics daily throughout Reception and Key stage 1. It is taught in short sessions so that children build up and learn the skills needed for both reading and writing. We use a range of resources which support every type of learner. We sing songs, practise articulating letter sounds and names and create letters using a wide range of materials. We also use a range of games to reinforce the children's learning. We believe that high quality phonics teaching adds to the skills of early readers. Phonics will also be taught in Key Stage 2 as discrete lessons either individually or as a small group if there is a SEND requirement. These sessions will be planned by the teacher to focus on the specific spelling patterns based on the year group expectation and the individual children's needs.
S
Writing
From the Reception class onwards children are taught how to write. Writing is taught systematically through a range of strategies including:
early experiences with mark making
multi-sensory experiences with letter recognition and formation
confidence and support to use their sounds to form words
access to visual support materials with familiar/topic vocabulary
a wide range of experiential and curricular linked opportunities to create written texts
meaningful writing activities
Handwriting
From Reception, we teach clear letter formation in a multi-sensory way in order to develop fine motor skills and aid their kinaesthetic learning. Handwriting is taught as a stand-alone skill, gradually becoming part of the whole learning to write process. As part of universal expectations of presentation, children are encouraged to use cursive script when they are ready.
100 Top non fiction books to read
Help your child enjoy to develop a joy for reading by sharing this list of 100 great non fiction texts with them, see how many they and you can read.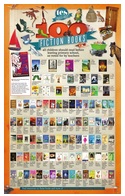 Term 3: whole school India project: books to read
The Elephants Friend by Marcia Williams
Handful of Rice by Kamala Markandya
The Jungle Book by Rudyard Kipling
Term 6:
Year 5 are reading Holes by Louis Sachar
Entrepreneurs are reading The Whale and the Snail by Julia Donaldson
Spelling
All children will be taught how to develop their spelling skills so they can be confident at writing.
Word list for children in Year 1
Work list for children in Year 2
Word list for children in Years 3 and 4
Word list for children in Year 5 and 6.
Help your child learn English