Reading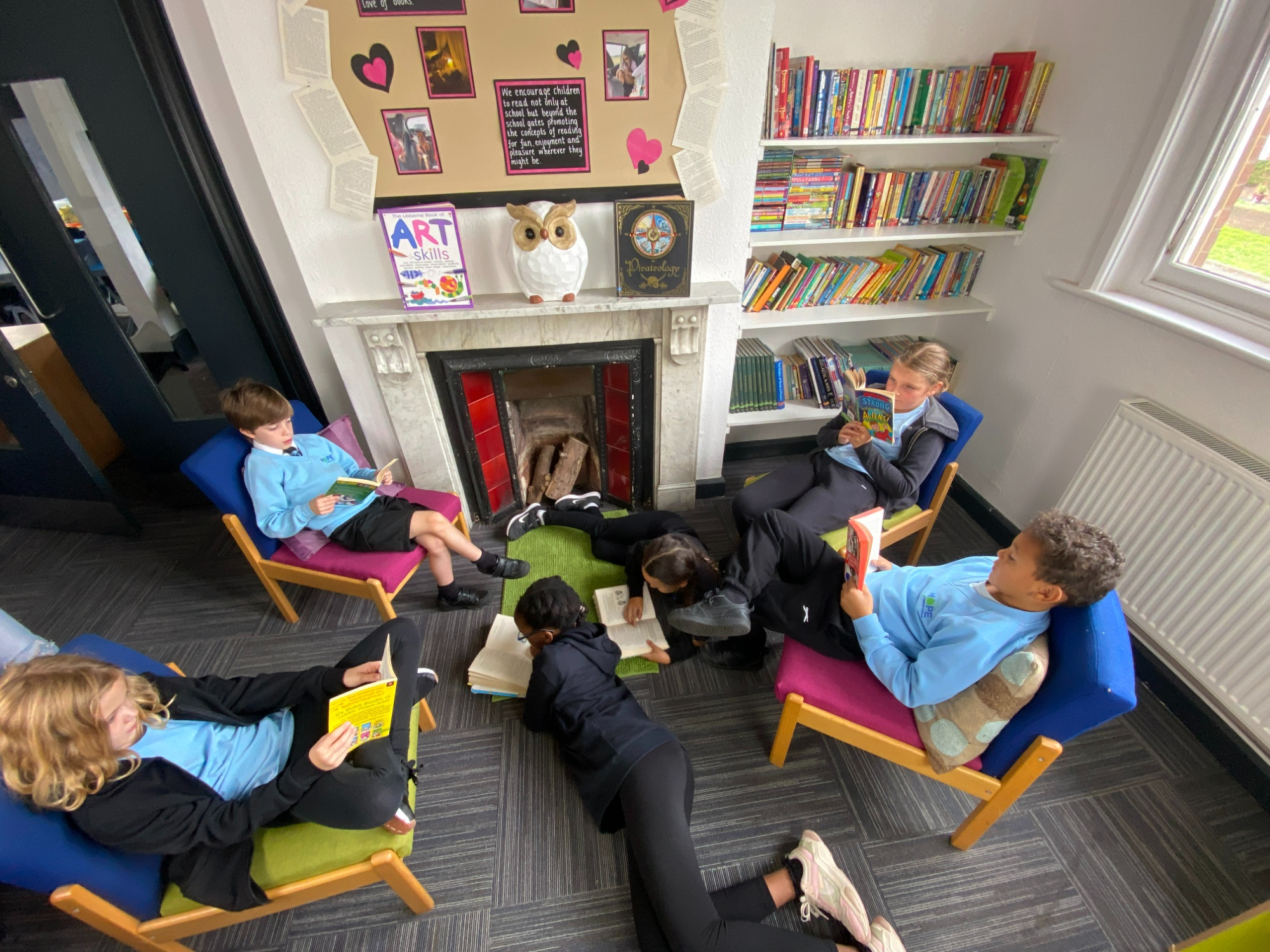 Developing a love of reading and the skills to read is at the core of all our learning at Hope Community School.
We use the Little Wandle Letters and Sounds Revised to plan and provide daily engaging phonics lessons. In phonics, we teach children that the letters of the alphabet represent a different sound, that these can be used in a variety of combinations and are put together to make words. The children learn to recognise all of the different sounds and combinations that they might see when they are reading or writing.
Our phonics teaching begins within the first few weeks of pupils starting in the Reception class and follows a very specific sequence that allows our children to build on their previous phonic knowledge and master specific phonic strategies as they move through school. As a result, all our children are able to tackle any unfamiliar words that they might discover. At Hope Community School we also model these strategies in shared reading and writing both inside and outside of the phonics lesson and across the curriculum. We have a strong focus on the development of language skills for our children because we know that speaking and listening are crucial skills for reading and writing in all subjects.
How we teach phonics
• In Reception and Y1, children follow the progression within Little Wandle Letters and Sounds Revised programme. Phonics is taught daily and there is a review session on a Friday.
• Phonics starts in Reception in week 2 to ensure the children make a strong start.
• By the end of reception, children will have been taught up to the end of phase 4.
• By the end of year 1, children will have been taught up to the end of phase 5.
• Reception lessons start at 10 minutes, with daily additional oral blending – increasing to 25 minutes as soon as possible.
• Y1 lessons are 25 minutes long.
• In Y2-Y3, phonic lessons are taught daily to children where appropriate – following the model of Little Wandle but plugging specific gaps identified through assessment.
• In Y2-Y6 there are planned phonic 'catch-up' sessions following a set model to address specific reading/writing gaps.
Reading practice sessions
• Children across Reception, Year 1, Year 2 (and beyond if appropriate) apply their phonics knowledge by using a full matched decodable reader in a small group reading practice session.
• These sessions are 15 minutes long and there are approximately 6 children in a group.
• The sessions follow the model set out in Little Wandle Letters and Sounds Revised.
• In Reception these sessions start in week 4. Children who are not decoding, do a little blending lesson, following the model set out in Little Wandle Letters and Sounds Revised.
• In Reception, Year 1 and 2, the children take home a decodable book at least twice a week to share with parents. They also have access to a book to share for pleasure.
If you are a parent and would like more information about how to support your child with phonics at home, please follow this link to find the Reception and Year 1 overview as well as videos of the sound pronunciations, letter formation sheets and other helpful resources.
https://www.littlewandlelettersandsounds.org.uk/resources/for-parents/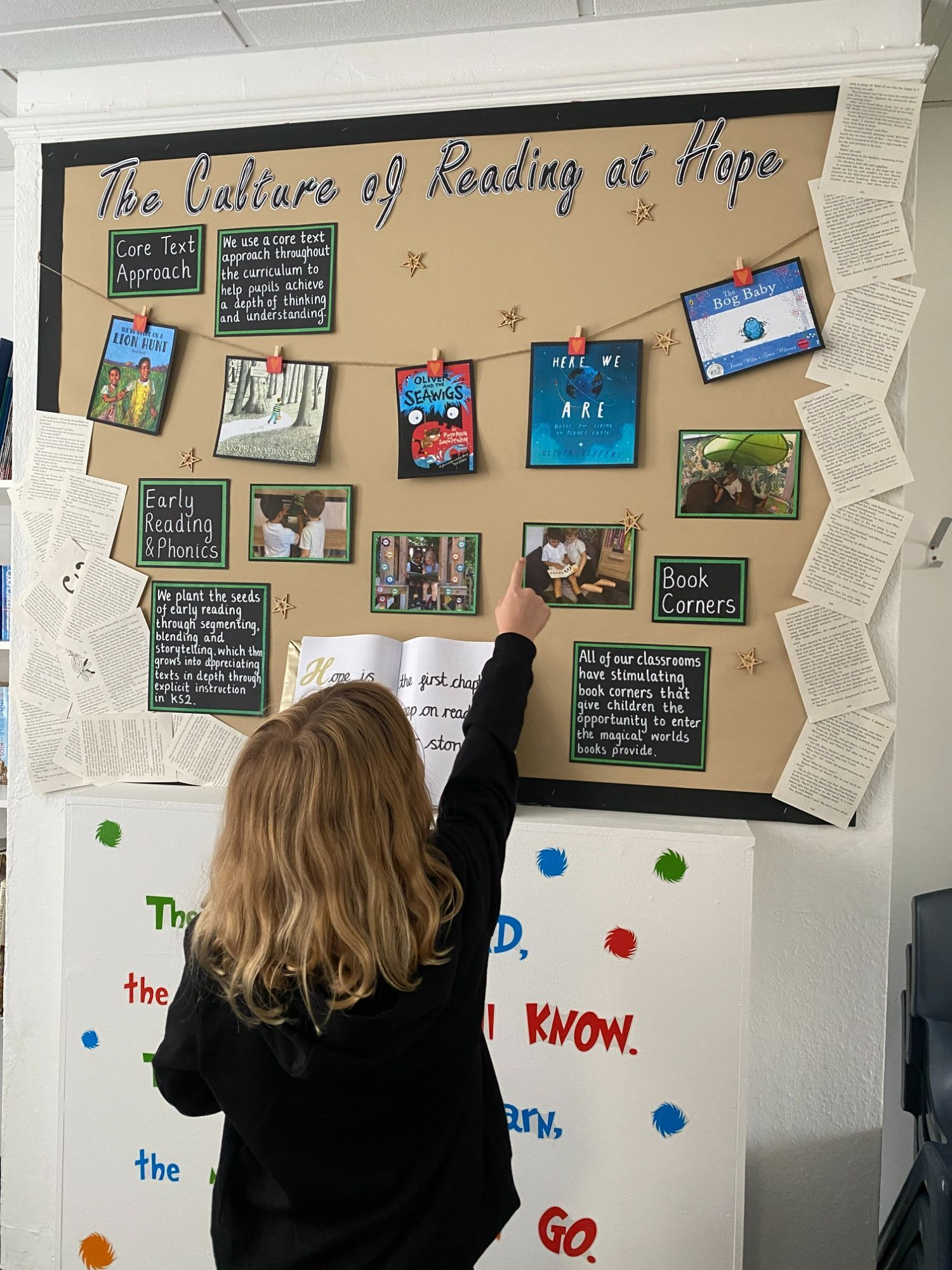 At Hope Community School, we value reading as a key life skill. By the time children leave our school, they should be confident selecting and reading a wide range of material and enjoy regularly reading for pleasure.
Our pupils are equipped with the tools to tackle unfamiliar vocabulary and material. They are able to recommend books to their peers and enjoy reading a wide range of genres, including non-fiction. Children enjoy participating in book talk, including evaluating an author's use of language and how this can affect the reader.
We ensure the books we read as part of our reading curriculum and in our book spaces are representative of our wider school community and reflect the diversity of our pupils lived experiences.
The Power of Reading
At Hope Community School, our aim is to instil a passion for reading and a confidence with words – both written and spoken, in all our children.
The Power of Reading is about teaching reading and writing through the use of high-quality texts and creative teaching approaches. Children are immersed into the text through music, art, drama, discussion and role-play. Other approached include responding to illustrations, 'book talk' and story mapping. The Power of Reading also enables children to deepen their understanding of texts and provides a meaningful context for writing.
The school focuses on
developing reading skills through the teaching of phonics and other skills so children become confident and fluent readers
developing pupils' vocabulary, their skills in understanding a variety of texts ( stories, poems, rhymes, and non fiction texts)
developing a love of reading
Writing
From the Reception class onwards children are taught how to write. Writing is taught systematically through a range of strategies including:
early experiences with mark making
multi-sensory experiences with letter recognition and formation
confidence and support to use their sounds to form words
access to visual support materials with familiar/topic vocabulary
a wide range of experiential and curricular linked opportunities to create written texts
meaningful writing activities
Handwriting
From Reception, we teach clear letter formation in a multi-sensory way in order to develop fine motor skills and aid their kinaesthetic learning. Handwriting is taught as a stand-alone skill, gradually becoming part of the whole learning to write process. As part of universal expectations of presentation, children are encouraged to use cursive script when they are ready.
100 Top non fiction books to read
Help your child enjoy to develop a joy for reading by sharing this list of 100 great non fiction texts with them, see how many they and you can read.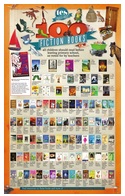 Spelling
All children will be taught how to develop their spelling skills so they can be confident at writing.
Word list for children in Year 1
Work list for children in Year 2
Word list for children in Years 3 and 4
Word list for children in Year 5 and 6.
Our curriculum intent statement is found below.
Help your child learn English