Admissions update:
Watch the video below to find out more about us.
If you are looking for a school place for your child please contact the school office which will be able to update you with our current vacancies.
The application period for admission to Reception for September 2024 will be from 1 September 2023 to 15 January 2024. A booklet with information about applying for a Reception place will be available online at www.bexley.gov.uk/admissions, from 1 September 2023.
The London Borough of Bexley administers the application process according to Hope's admissions policy which can be viewed here or copies are available from the School Office.
As a school with religious designation, 20% of school places will be allocated to children from faith backgrounds if we are oversubscribed. To apply for a faith-based place please complete our Supplementary Information Form here. This should be handed in directly to the school.
Further information is available from the school office, but all applications need to be made through the London Borough of Bexley application process. Applications can be made through the online form on the London Borough of Bexley website or a paper form can be collected or sent out by post or email if applicants contact the School office.
The deadline for applications is 15th January 2024.
OPEN DAYS
If you would like more information or to come and see the school we are happy to offer a tour and the opportunity to meet our Principal and someone from the Trust by appointment.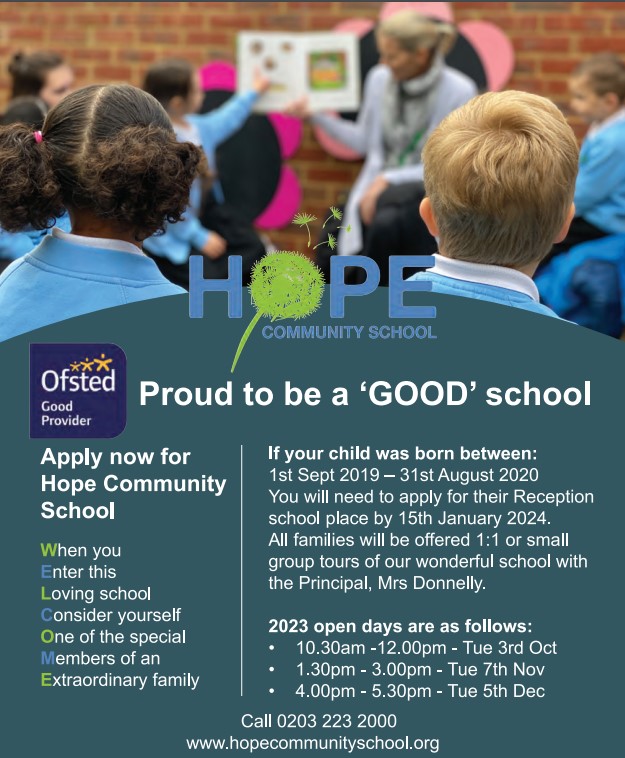 Please phone or email the school office in September if you wish to join us for one of our open days at enquiries@hopecommunityschool.org, or telephone 020 3223 2000.
Admission Arrangements 2024/ 2025
The 2024 / 2025 admission arrangements are in the document below.