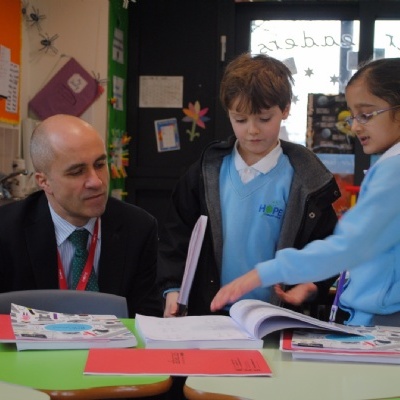 It was a privilege to welcome Dominic Herrington to our school today.
Dominic is the Regional Schools Commissioner for South-East England and South London.
Regional Schools Commissioners are responsible for making decisions about academies and free schools in their region and work with school leaders to promote and monitor academies and free schools. They act on behalf of the Secretary of State for Education. The RSCs are accountable to the Schools Commissioner and are supported by a board of 6 to 8 experienced academy headteachers and other sector leaders.
Dominic Herrington started in his role on 1 July 2014. Before his appointment as RSC Dominic was Director of the Academies Group at the Department for Education.
We invited Dominic to come and visit us to see our school in action. He was given a tour of the school by some of our children, met a group of parents, joined in a collective and visited our classes to meet teaching staff and review some of our children's work. We presented him with a piece of art made by members of the school community. Some of our children were able to ask Dominic some questions to find out more about his role.
We were delighted to be able to share the story of Hope Community School with him.