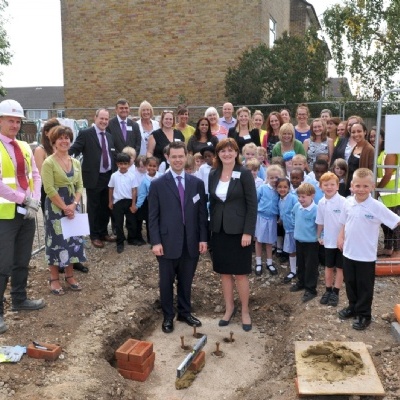 Hope Community School welcomes the Secrectary of State for Education
We were delighted to be able to host the Rt Hon Nicky Morgan at our School on the 16th September 2014
Nicky Morgan was confirmed as the new Education Secretary on the 15th July 2014 and so this was one of her first visits to schools. Our local MP, James Brokenshire, accompanied Nicky Morgan on a tour around the school where she was able to spend time with children, Governors and staff. We invited her to place our first brick into the foundations of our new building and to write a word on it. She chose the word 'Aspiration' and spoke to the school about dreaming without limits for our futures.
Paul Weston, Chair of the Trust, said 'it was such a privilege to be able to welcome Nicky to our school, she was very interested in the journey of the Trust and listened to our children's thoughts about their school. Nicky came at a crucial time in the school's development and we were delighted that she was able to lay the first stone of our new building."
We presented Nicky Morgan with some artwork which had been created by the children, representing our logo made in handprints. It was a very proud and exciting day for us all.